About the Videology Name in Europe
Videology Industrial-Grade Cameras (aka Videology) is part of inTEST Corporation, a publicly traded company (NYSE American: INTT). Videology was a privately held manufacturing firm, founded in 1995, until it was acquired by inTEST on October 29th, 2021.
There are three divisions at inTEST Corporation as follows:
Electronic Test

Environmental Technologies

Process Technologies
All three divisions are headquartered in the United States with business operations worldwide.
Process Technologies is headquartered in Rochester, New York, and includes Ambrell Corporation (aka Ambrell) and Videology Industrial-Grade Cameras.
In the Netherlands, Ambrell B.V. is the registered legal entity with the Chamber of Commerce for inTEST and encompasses both the Ambrell and Videology organizations and includes the registered trade names of Videology Imaging Solutions Europe and Videology Industrial-Grade Cameras (aka Videology). This type of legal registration is a common practice for global organizations that have multiple businesses in various countries around the world.
The entity name of Ambrell B.V. will ONLY be used as legally required.
The trade name of Videology Industrial-Grade Cameras (aka Videology) will be used in all of Videology's global business communications such as the Videology website, sales and marketing materials, social media, engineering drawings, data sheets, manuals, etc. Additionally, it should be mentioned that Videology operates independently of Ambrell within the inTEST Corporation. Ambrell and Videology share the same legal registration in the Netherlands as they are both located in that country.
Please note that Videology email addresses for Europe employees and departments no longer use the domain of name@videology.nl. The new domain is name@videologyinc.com, which is the domain for Videology globally. Incoming emails with the old domain will be forwarded to the new domain.
For questions about the Videology name in Europe, please contact info-eu@videologyinc.com.
For more information about inTEST Corporation, please visit their website at www.intest.com.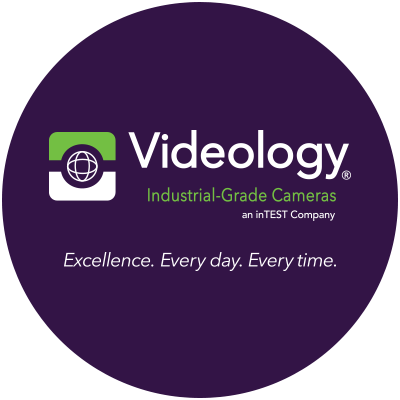 Four Ways to Contact Videology