Latest Innovation In Zoom Block Cameras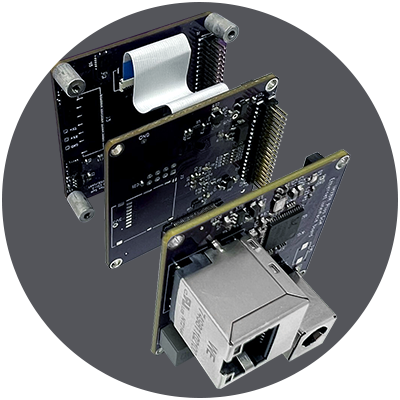 Videology Cameras Get Smart With
SCAiLX

!

SCAiLX by Videology is an IP/AI Edge device platform developed fully in-house that brings embedded and Edge AI processing capabilities right on the camera level.

The new SCAiLX platform is seamlessly integrated into our well-known zoom block camera family, which now forms our SCAiLX-ZB product line. This remarkable advancement in Videology's smart camera technology allows for real-time image processing and analytics without the need for cloud access to run the AI model.

Exciting developments are in progress for stand-alone SCAiLX SoM units, which will soon expand to include other Videology and leading brand cameras. These units are currently under development and are set to launch in the first quarter of 2024 and beyond.

Be a part of the future smart AI cameras with SCAiLX and join our journey towards making Edge AI accessible to all through our cameras powered with SCAiLX.

Be a part of the future with SCAiLX-powered smart cameras and join our journey towards making Edge AI accessible to all through our cameras.

Download SCAiLX Brochure
This is

SCAiLX

by Videology.
SCAiLX-powered cameras are transforming the industry with their advanced artificial intelligence and machine learning capabilities. Designed with optimal SWaP (Size, Weight, and Power), SCAiLX is not only highly efficient but also cost-effective.
Our smart Edge AI cameras have the ability to detect, analyze, and compare images right at the device level, opening up endless possibilities in various sectors such as manufacturing, retail, finance, transportation, energy, and healthcare. The versatility of the SCAiLX platform enables its usage in a wide range of applications, including:
ANPR/LPR

Traffic/crowd monitoring

Pipe inspection

Robotic crawlers/UAVS/submersibles

Logistics and fleet management

Agriculture

Retail

Safety and security

Machine vision sorting/monitoring
and many more!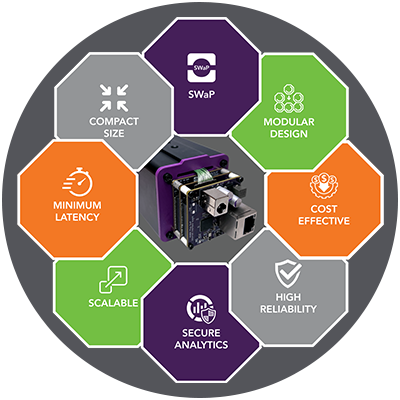 A first-to-market zoom block camera with Edge AI.
SCAiLX-ZB, designed and developed by the brilliant minds at Videology's Center of Engineering Excellence in Eindhoven, is a first-to-market Zoom Block camera with embedded Edge AI.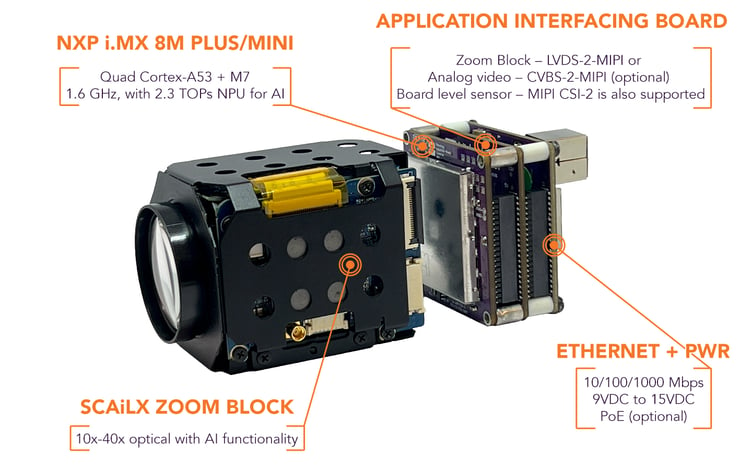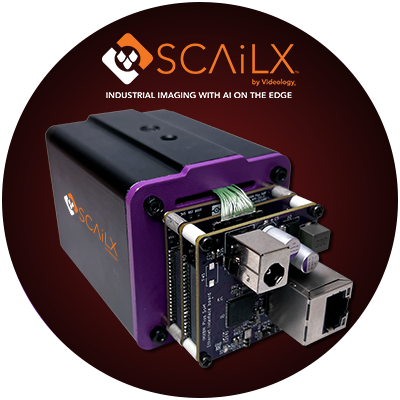 Built with modularity at its core.
Experience the versatility of SCAiLX-ZB with a diverse range of configurations. It can be configured with a variety of options to tailor your specific needs.
The camera module can be any Videology Zoom Block camera with an LVDS output, ranging from 10x to 55x optical zooming capability.

The SoM board supports advanced embedded processing capabilities to deliver low-power and high-performing solutions on the Edge for embedded consumer and industrial applications. The SoM board configuration also includes an integrated machine learning accelerator with a Neural Processing Unit (NPU) and Image Signal Processor (ISP).

The output board with the RJ-45 port can be configured to have a 9VDC to 15VDC power supply or ETH-RTL-POE+.
This powerful board stack, which can be configured and packed with all the essential features for image processing and Edge AI applications, comes at a very small footprint of 42x42mm (1.65x1.65").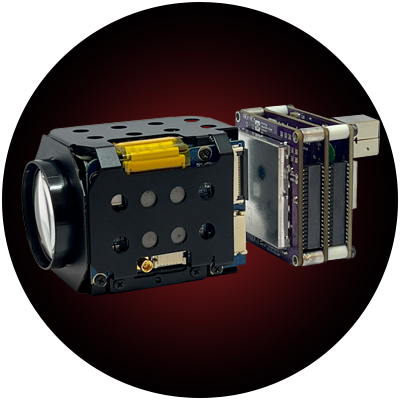 Deploy your Edge AI solution within minutes.
We transformed our SCAiLX-ZB cameras into powerful Edge AI machines, thanks to pre-installed 3rd party middleware. Experience instant access to an extensive ecosystem of AI/ML modeling platforms and model training libraries, allowing you to accelerate your time to market for AI solutions. We ensure your model and application remain yours and SCAiLX-ZB runs your AI models easily and securely.
Deliver AI applications easily at the edge
Easily create and deploy your AI models to a wide range of edge devices with our SCAiLX-ZB cameras.

Utilize your preferred AI training platform to effortlessly develop your models, and then remotely and securely deploy them in bulk.

Configure the entire pipeline without any coding.

Capture new training examples directly on your device to enhance your AI training loop and bring your solution to life.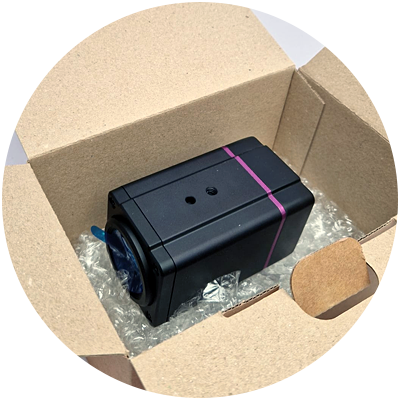 Explore Our Sample AI Models Library.
Our partnership with Scailable makes our SCAiLX-ZB cameras instantly "AI-ready" through the integration of Scailable Edge AI middleware on our devices.
You can enjoy a set of specific, specifically configured demo AI models for SCAiLX-ZB. The current models on the Videology catalogue are:
Face locator: Locate faces and draw bounding boxes around them.

Object detector: Detect people, cars, bikes, etc., and draw bounding boxes and counts.

Emotion detection: Primary emotion detection for the whole image close to the camera.

Face blurring: Explicitly blur faces in the resulting output from the face locator.

QR code scanning: Scan a QR code and see the text stored in the image.
The above catalogue models are in active development. Please check back regularly to stay updated on the progress. There is always something new and exciting happening, so do not miss out!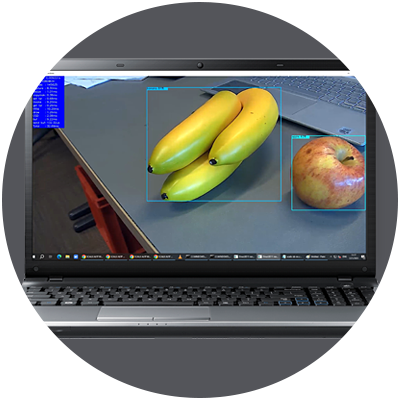 Unlock a world of possibilities with
SCAiLX

.
Size Weight and Power: Packaged with a compact, NXP-based SoM board measuring only 42x42mm (1.65x1.65") with low power consumption.

Modular Design: A versatile open-source solution compatible with various inputs and outputs (MIPI, LVDS, Ethernet, PoE, etc.).

Cost Effective: Simplified design with dedicated SoM, no unnecessary interfaces or connectors.

High Reliability: Utilizes a cutting-edge multi-core processor platform with embedded LINUX OS.

Secure Analytics: Embedded Linux platform with leading security solutions and OTA updates.

Scalable: Deploy AI solutions to edge devices with attachable hardware accelerators.

Minimum Latency: Hardware video pipeline and compression.

Compact Size: Compact stackable design with efficient thermal solution.
Four Ways to Contact Videology